May 28, 2021
By Chris Ingram
Thinking about traveling to Canada to hunt ducks and geese this fall? Don't pack your bags just yet. We are now well past the one-year anniversary of the United States-Canada border closure at the onset of the COVID-19 pandemic in March 2020. Optimism among hunters prevails in hopes the border will reopen in time for the fall hunting season, although at present time there is no formal plan for when, how, or even if, this might happen. Efforts by both governments are focused on controlling the spread of the virus and awaiting the success of the vaccine rollout before offering any plans to reopen the border.
With lower total cases and fewer deaths compared to the U.S. per capita, the Canadian government is unrelenting in its efforts to defend its citizens against the virus and continues to uphold its stringent travel restrictions. 
Guarding the Gate
Here in the US, life appears to be making a return to normal as COVID cases are declining, millions are being vaccinated, and mask mandates are being lifted. The Canadian government, however, is keeping protective measures in place and has significantly reduced the eligibility of travelers to enter the country. Wildfowl asked the Canada Border Services Agency (CBSA) if there are any plans to reopen and what hunters should consider when looking ahead to travelling north this season. The CBSA provided the following response, "The Government of Canada has introduced public health measures to help prevent further introduction and transmission of COVID-19 and new variants of the virus into Canada. All travel by foreign nationals, including U.S. Citizens, for tourism and recreation, such as hunting, are prohibited under these measures." 
While this is not the answer what we hoped to hear, it's apparent this is not going to be a quick and simple response. While we are hearing rumors that Canada may permit Americans with proof of vaccination, at this point we can only hope there will be a plan to allow us to enter Canada before the season commences.
UPDATE: We have begun hearing rumors the Canadian governement may consider a "vaccine passport" system, whereyby travellers who have completed a vaccination regiment of a government-approved vaccine, may be permitted to enter Canada without COVID testing or a mandatory quaratine. Another source has made a claim that certain provinces may be open by July 1 with no vaccination requirements. 
Bordering on the Brink
If you think you're going to have it bad because you won't be able to make the trip to smack some ducks and honkers this fall, the local residents and economies of popular destination provinces are downright suffering. Roy Anderson of the Saskatchewan Commission of Professional Outfitters noted that 61 percent of their outfitters did not even open their doors to conduct business in 2020. This translated to a complete loss of income for their operations and $112 Million loss in gross sales for the entire outfitting industry, a third of whom are waterfowl-based. In an average year, the outfitting industry in Saskatchewan directly employs over 5,000 individuals, but sadly more than half reported losing their jobs since the border closed. 
Anderson went on to suggest just how much the local economies are connected to waterfowl hunting. We're not just talking about the thousands of hunters making a pit stop in town, but the 200 plus waterfowl guides and outfitters that spend some serious coin stocking up on fuel, food, and gear at the local corner stores all season long. And they're not shopping at the big box stores in the big city, it's the mom-and-pop shops that dot the rural landscape that are bearing the brunt of this disturbance. We're talking between 70 to 80 percent outfitter spending that goes right back into these small, rural economies and contributes to roughly $47 Million in net Gross Domestic Product for the entire province.
"Many of our outfitters are hesitant to open their doors without a formal border reopening plan, but when we do open, it's going to be one of the best years they've ever had," said Anderson. "The demand will be high and those [outfitters] that can make it through this disruption will recover very quickly." 
Making the Best of Best-Laid Plans
While most Americans who visit the duck factory hire a licensed guide, many hunting parties take the nomadic, freelance approach. James Wille and the crew from White Rock Decoys has made an annual trip over the border each fall for ten years until the pandemic hit. "It was definitely frustrating and disappointing," sighed Wille, commenting on the border closure in 2020. "The resources and opportunities are just so much better in Canada. There is less hunting pressure, the birds are easier to target, and landowners are much more willing to grant access to hunt than they often are here in the States. But we made the best of it, and spent last fall staying closer to home and rekindled some older relationships and opportunities—Wisconsin still has some terrific Canada goose hunting!"
---
---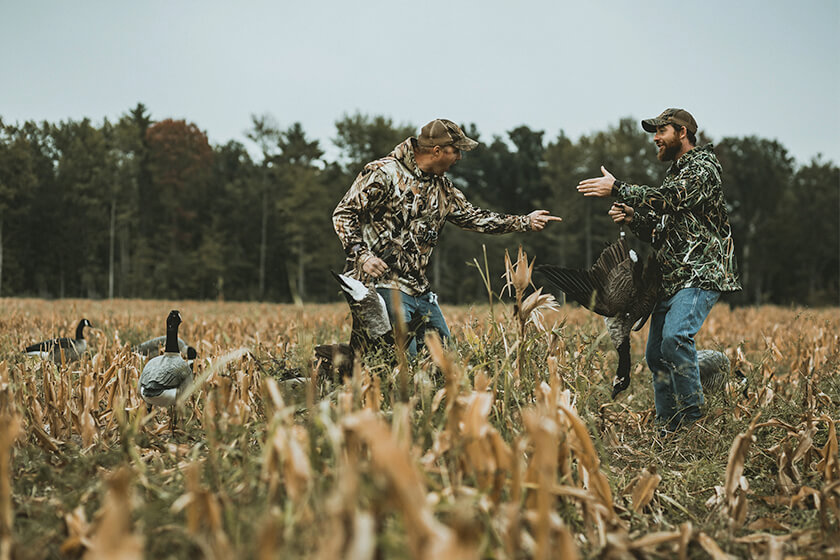 Wille remains hopeful and otherwise promotes a positive outlook for hunters in preparation of their northern expedition this fall. "Be ready to go and do your part. Update your passport, know the crossing guidelines, and make sure everyone in your crew is doing the same."
Hurry Up and Wait
Despite your best efforts to convince your family and the border authority otherwise, chasing the migration is considered non-essential, discretionary/optional travel, and remains prohibited by the Canadian government.  According to their most recent updates, if you're attempting to cross to hunt birds, you will not be allowed to enter Canada, even if you have tested negative for COVID-19 or have received a COVID-19 vaccine. Take the questionnaire yourself and find out if you can enter Canada.
For more information about travelling into Canada, check out flying to Canada requirements checklist and driving to Canada requirements checklist.
In the meantime, do what you feel you need to do to be ready for when the greenhead green light is granted. If that doesn't happen this season, consider making plans to visit a new domestic destination, target a new species, or get back to the basics and hunt close to home with cherished friends and family. Remember, it's not about limits and trophy birds, it's about each day spent in the field making memories that will last a lifetime.
Stay tuned to Wildfowl for the latest updates and news on the border reopening.